Sundeck Apartments: Throwback Thursday
Remember a time before High Vis vests, helmets and steel capped boots on worksites? When builders had the best tan in town, and never seemed to wear a shirt, and stubbies were the uniform of preference?
Well this photo is for you, from 1981. We found it in the University of Queensland online archives and it shows construction old school style at the Sundeck Garden Apartments in Cotton Tree.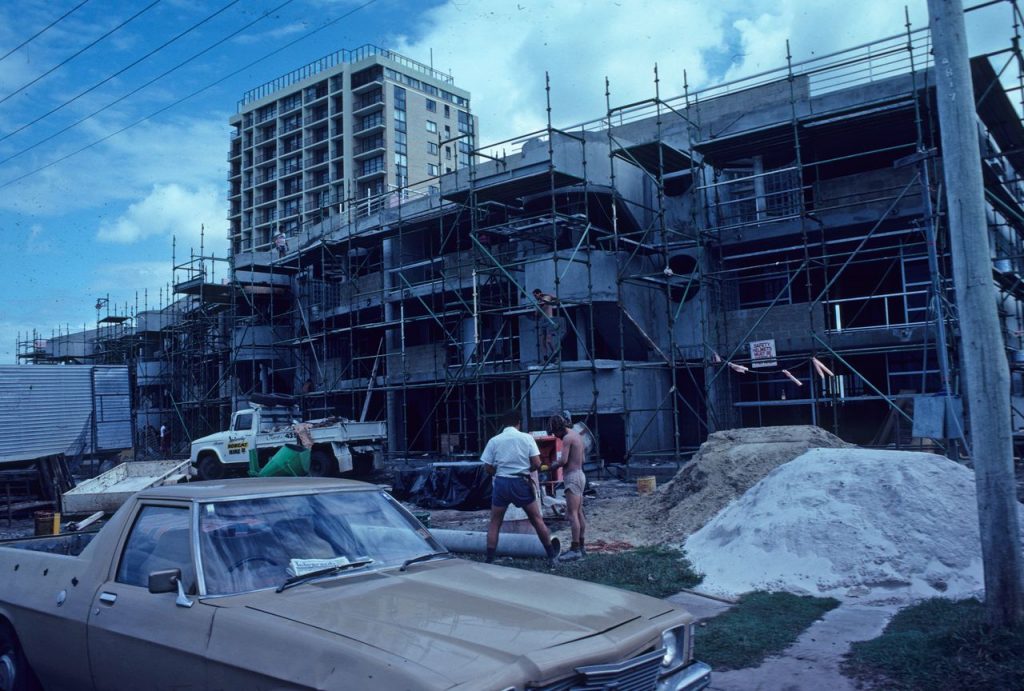 Noel Robinson and team designed the twenty-four low rise apartments, which were set in landscaped pool gardens overlooking the coastal dunes and Pacific Ocean. It had distinctive curved pale pink façade, curved glazing and deep shaped balconies and courtyards accessed off generous living areas. The internal standard of services and facilities was high with imported tiles, wool carpet, veneers and Vola Taps combining with detailing to appeal to the "upper end of the market".
Sun Deck Gardens beachfront apartments are a 2 minute walk from the beach in Cotton Tree, Maroochydore.  The apartments feature 2 bedrooms, a fully-equipped kitchen and a large lounge, as well as 2 swimming pools and a spa on site.
This "real view" image of one of the roof top apartments today, allows you to place your mouse on the apartment and move around to look inside. If you place your cursor on the veranda you can see the rounded stair towers which are glazed with curved glass.

Real view image of roof top apartment
Inside Sundeck Gardens today:
You can still stay at the apartments, also these days the building is a shyer shade of white. Have you stayed at the Sundeck apartments? We'd love to hear about your memories.