Throwback Thursday: Beach Shack Architectural Design: This week we look back to 2005, when Peter Lewis's "weekend beach shack" was covered in Home.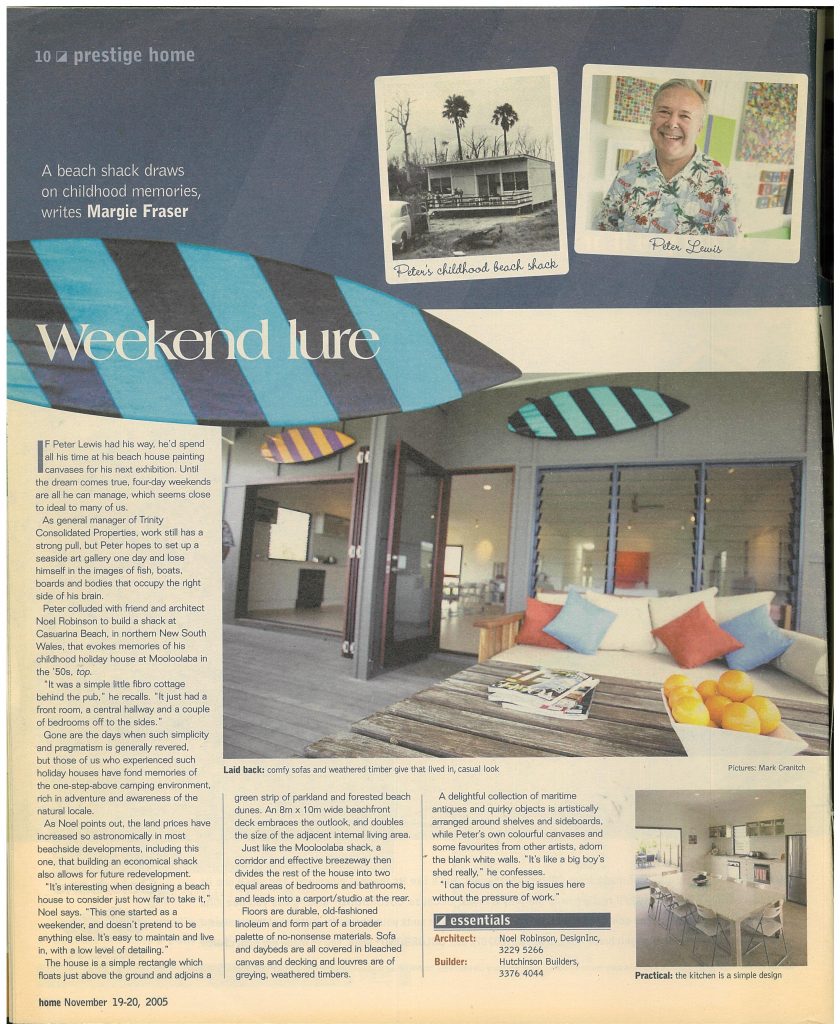 A beach shack draws on childhood memories, writes Margie Fraser.
If Peter Lewis had his way, he'd spend all his time at his beach house painting canvases for his next exhibition. Until the dream comes true, four-day weekends are all he can manage, which seems close to ideal to many of us.
As general manager of Trinity Consolidated Properties, work still has a strong pull, but Peter hopes to set up a seaside art gallery one day and lose himself in the images of fish, boats, boards and bodies that occupy the right side of his brain.
Peter colluded with friend and architect Noel Robinson to build a shack at Casuarina Beach, in northern New South Wales, that evokes memories of his childhood holiday house at Mooloolaba in the '50s, top.
"It was a simple little fibro cottage behind the pub," he recalls. It just had a front room, a central hallway and a couple of bedrooms off to the sides".
Gone are the days when such simplicity and pragmatism is generally revered, but those of us who experienced such holiday houses have fond memories of the one-step-above camping environment, rich in adventure and awareness of the natural locale.
As Noel points out, the land prices have  increased so astronomically in most beachside developments, including this one, that building an economical shack also allows for future redevelopment. "It's interesting when designing a beach house to consider just how far to take it", Noel says. "This one started as a weekenders, and doesn't pretend to be anything else. It's easy to maintain and live in, with a low level of detailing".
The house is a simple rectangle which floats just above ground and adjoins a green strip of parkland and forested beach dunes. An 8m x10m wide beachfront deck embraces the outlook and doubles the size of the adjacent internal living area.
Just like the Mooloolaba shack, a corridor and effective breezeway then divides the rest of the house into two equal areas of bedrooms and bathrooms and leads into a carport/studio at the rear.
Floors are durable, old fashioned linoleum and form a part of a broader palette of no-nonsense materials. Sofa and daybeds are all covered in bleached canvas and decking and louvres are of greying, weathered timbers. A delightful collection of maritime antiques and quirky objects is artistically arranged around shelves and sideboards, while Peter's own colourful canvases and some favourites from other artists, adorn the blank white walls. "It's like a big boy's shed really," he confesses. "I can focus on the big issues here without the pressures of work".
Home- November 19-20, 2005.

One of the original elevations for the beach house.

Simple floor plan used during the design process of the beach house.