Energy efficient buildings
This week's Throwback Thursday may have been written over 25 years ago, however The NRA Collaborative's office is still the same. We may have moved into a new office several times since then, but we are still dedicated to ensuring that each of our designs are environmentally sustainable. We are also conscious to do our bit in practicing sustainable behaviours in the office – with many of our staff walking or cycling to work each day!
The article from The Australian from 1991 provides insight towards how our actions today will dictate how we live tomorrow.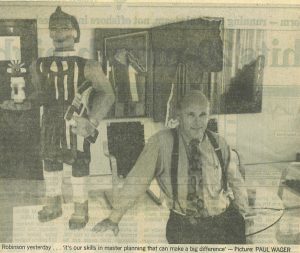 OWNERS 'MUST LOOK CLOSER' AT LONG-TERM COST
– Start of article –
Buildings will need to become more energy efficient as governments and institutional investors look to the long-term, says a Brisbane architect, Mr Noel Robinson.
He said the capital cost of a building was usually about a quarter of its life-cycle cost and energy-efficient buildings had greater returns.
"The smaller, investor-type buildings are probably the ones most at risk," Mr Robinson said.
"Government or institutional owners are going to look closer at ensuring their buildings are more energy efficient and the cost of running those over their lifespan is much more efficient."
His company, Noel Robinson Architects, has just released an environmental policy which addresses energy efficiency in the context of sustainable development.
Mr Robinson, who dismisses the "greenie" tag, said architects had the responsibility to protect the environment.
"Architects are at the front line of environmental issues, dealing with large tracts of land that in many cases have quite sensitive environmental conditions and habitats to preserve," he said.
"It's our skills in master planning that can make a big different in not only the economics of the scheme but how we save the fabric of the genus loci – how we respond to the spirit of the place.
"I think it's very important for architects and planners and landscape architects to clearly understand what the options are and develop solutions that touch the land lightly."
Mr Robinson said his firm's environmental policy evolved from within.
His company's 40 employees recycle paper and glass, use public transport rather than private vehicles on company business whenever possible, close blinds in offices facing west to minimise heat gain, wear warmer clothing in winter and cooler clothing in summer to save on heating and air-conditioning, and turn on the dishwasher only when it is full.
"It was not done to attract business," Mr Robinson said.
"It was done in the office to ensure we respect the environment and don't add to any of its ills".
"So firstly it's a self-regulatory, internal document."
It's policy sets out environmentally friendly building products as well as passive controls for varying climates.
"We will specify non-rainforest timbers and try to use plantation timbers wherever possible," Mr Robinson said. "We use insulations that are not manufactured using CFCs and try to develop designs that are low energy.
"We endeavour to convince our clients that they should be good corporate citizens and show them the way we can design a better product, taking account of environmental issues.
"It is our duty as responsible designers to try and educate our clients without them or us being radical greenies."
– End of article –