We go back to the yellow house at a corner in Spring Hill that was previously a shut down tavern built by an Irish bricklayer in 1883 and then later repaired and restored by Noel and his family with a Nordic twist.
---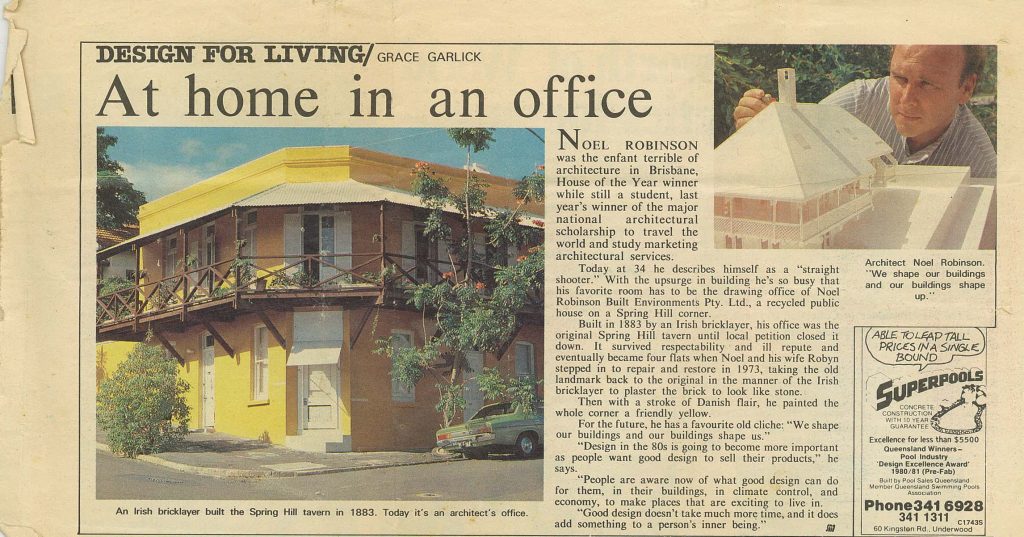 DESIGN FOR LIVING – GRACE GARLICK
AT HOME IN AN OFFICE
Noel Robinson was the enfant terrible of architecture in Brisbane, House of the Year winner while still a student, last year's winner of the major national architectural scholarship to travel the world and study marketing architectural services.
Today at 34 he describes himself as a "straight shooter." With the upsurge in building he's so busy that his favourite room has to be the drawing office of Noel Robinson Built Environments Pty. Ltd., a recycled public house on a Spring Hill corner.
Built in 1883 by an Irish bricklayer, his office was the original Spring Hill tavern until local petition closed it down. It survived respectability and ill repute and eventually became four flats when Noel and his wife Robyn stepped in to repair and restore in 1973, taking the old landmark back to the original in the manner of the Irish bricklayer to plaster the brick to look like stone.
Then with a stroke of Danish flair, he painted the whole corner a friendly yellow.
For the future, he has a favourite old cliché;
"We shape our buildings and our buildings shape us."
"Design in the 80's is going to become more important as people want good design to sell their products," he says.
"People are aware now of what good design can do for them, in their buildings, in climate control, and economy, to make places that are exciting to live in. Good design doesn't take much more time, and it does add something to a person's inner being."