Today representatives from the NRA Collaborative were privileged to attend the traditional Buddhist Purifying Ceremony which took place at the Novotel South Bank, Brisbane Hotel. The hotel is due to open later this week. Attending were representatives of the Novotel, Kinstone Developments, Hutchinson Builders, GMP, invited guests the Sangha from the Fo Guang Shan Chung Tian Temple and members of Buddha's Light International Association.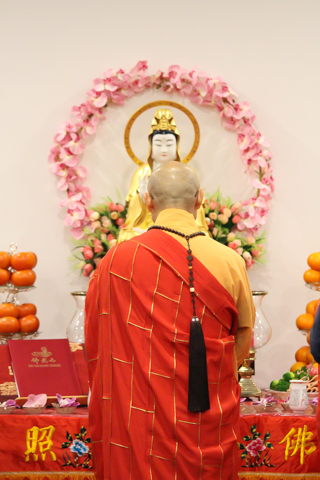 Arthur Liu from Kinstone Developments migrated to Australia from Taiwan and the Buddhist ceremony was especially significant for his family and staff, providing homage to his culture and a way to provide gratitude and thanks for the hotel which was built under budget and completed earlier than schedule. He said the secret behind the success of the construction of the hotel was the blessing that was provided by the Buddhist Sangha at the Sod turning ceremony, earlier in the year.
Today's purification ceremony was held prior to the official opening of the Hotel, in order to bestow good wishes and fortune and health for all those who were part of the project, and those who would visit the hotel as guests in the future. As is custom, four types of fruit were offered at the Buddhist altar for good health, prosperity, safety and unity; persimmons, oranges, pineapples and apples, in addition to incense, candles, flowers and other significant items. The purification ceremony involved chanting mantras and blessed water was sprinkled through each of the rooms in the hotel.
We wish the team at Novotel and Kinstone Developments a very successful lunch this week and for the future!