ASIA PACIFIC DESIGN GROUP
It's no secret that in business, it's not what you know but who you know – and what you do with these connections. This week's Throwback Thursday looks at Noel's role as chairman of the Asia Pacific Design Group (APDG) which was formed in 1993, where he collaborated with some of the best infrastructure and development consultants across various disciplines to target the Asian market. By offering a powerhouse of talent and experience, APDG were able to secure billion dollar projects in China and Japan, which goes to show that forging deep relationships with people in your network can yield lucrative results.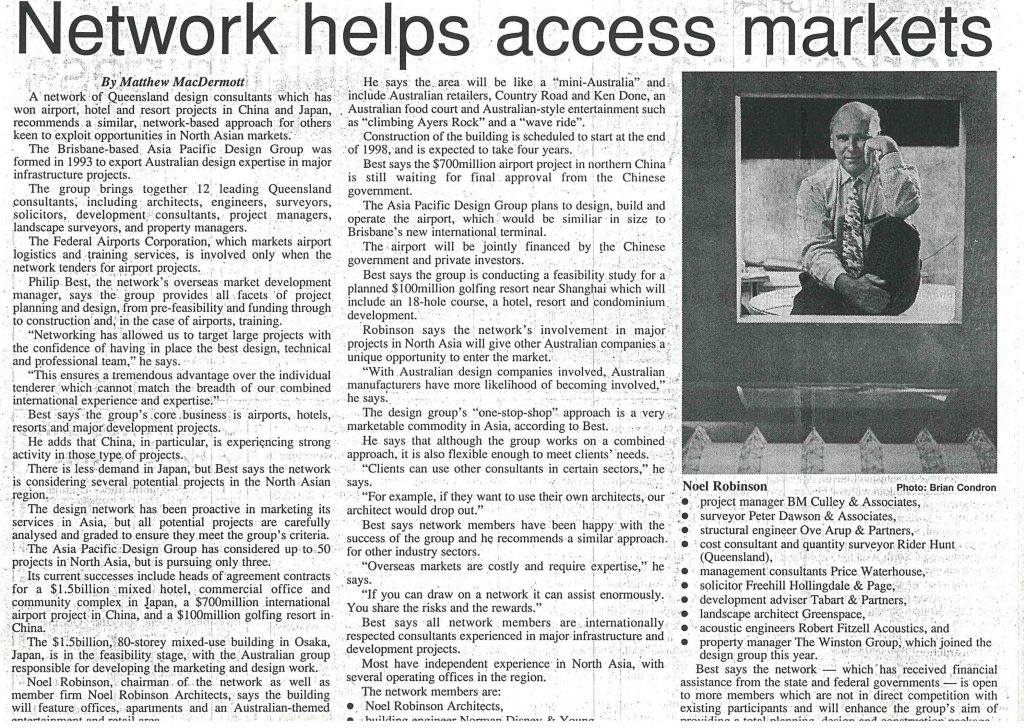 BUSINESS QUEENSLAND, VOL 7 NO 316 – May 27th, 1996
NETWORK HELPS ACCESS MARKETS
– Start of article –
A network of Queensland design consultants which has won airport, hotel and resort projects in China and Japan recommends a similar, network-based approach for others keen to exploit opportunities in North Asian markets.
The Brisbane-based Asia Pacific Design Group was formed in 1993 to export Australian design expertise in major infrastructure projects.
The group brings together 12 leading Queensland consultants, including architects, engineers, surveyors, solicitors, development consultants, project managers, landscape surveyors and property managers.
The Federal Airports Corporation, which markets airport logistics and training services, is involved only when the network tenders for airport projects.
Philip Best, the network's overseas market development manager, says the group provides all facets of project planning and design, from pre-feasibility and funding through to construction and, in the case of airports, training.
"Networking has allowed us to target large projects with the confidence of having in place the best design, technical and professional team," he says.
"This ensures a tremendous advantage over the individual tenderer which cannot match the breadth of our combined international experience and expertise."
Best says the group's core business is airports, hotels, resorts and major development projects.
He adds that China, in particular, is experiencing strong activity in those type of projects.
There is less demand in Japan, but best says the network is considering several potential projects in the North Asian region.
The design network has been proactive in marketing its services in Asia, but all potential projects are carefully analysed and grade to ensure they meet the group's criteria.
The Asia Pacific Design Group has considered up to 50 projects in North Asia, but is pursuing only three.
Its current successes include heads of agreement contracts for a $1.5 billion mixed hotel, commercial office and community complex in Japan, a $700 million international airport project in China, and a $100 million golfing resort in China.
The $1.5 billion, 80-storey mixed-use building in Osaka, Japan, is in the feasibility stage with the Australian group responsible for developing the marketing and design work.
Noel Robinson, chairman of the network as well as member firm Noel Robinson Architects, says the building will feature offices, apartments and an Australian-themed entertainment and retail area.
He says the area will be like a "mini Australia" and include Australian retailers, Country Road and Ken Done, an Australian food court and Australian-style entertainment such as "Climbing Ayers Rock" and a "wave ride".
Construction of the building is scheduled to start at the end of 1998, and is expected to take four years.
Best says the $700 million airport project in northern China is still waiting for final approval from the Chinese government.
The Asia Pacific Design Group plans to design, build and operate the airport, which would be similar in size to Brisbane's new international terminal.
The airport will be jointly financed by the Chinese government and private investors.
Best says the group is conducting a feasibility study for a planned $100 million golfing resort near Shanghai which will include an 18-hole course, a hotel, resort and condominium development.
Robinson says the network's involvement in major projects in North Asia will give other Australian companies a unique opportunity to enter the market.
"With Australian design companies involved, Australian manufacturers have more likelihood of becoming involved," he says.
The design group's "one-stop-shop" approach is a very marketable commodity in Asia, according to Best.
He says that although the group works on a combined approach, it is also flexible enough to meet clients' needs.
"Clients can use other consultants in certain sectors," he says.
"For example, if they want to use their own architects, our architects would drop out."
Best says network members have been happy with the success of the group and he recommends a similar approach for other industry sectors.
"Overseas markets are costly and require expertise," he says.
"If you can draw on a network it can assist enormously. You share the risks and the rewards."
Best says all network members are internationally respected consultants experienced in major infrastructure and development projects.
Most have independent experience in North Asia, with several operating offices in the region.
The network members are:
– Noel Robinson Architects,
– building engineer Norman Disney & Young
– project manager BM Culley & Associates,
– surveyor Peter Dawson & Associates,
– structural engineer Ove Arup & Partners,
– cost consultant and quantity surveyor Rider Hunt (Queensland),
– management consultants Price Waterhouse,
– solicitor Freehill Hollingdale & Page,
– development advisor Tabart & Partners,
– landscape architect Greenspace,
– acoustic engineers Robert Fitzell Acoustics, and
– property manager The Winston Group, which joined the design group this year.
Best says the network – which has received financial assistance from the state and federal governments – is open to more members which are not in direct competition with existing participants and will enhance the group's aim of providing a total planning, design and construction package.
– END OF ARTICLE –
The NRA Collaborative continues to provide services to Asia, with an office in Hong Kong and a presence in Shenzhen, Dubai, Muscat and Shanghai.
Noel was also the recipient of the Export Hero Award in 2013, recognising his efforts for his contribution across international markets throughout his impressive career.