Art Deco Ascot Brisbane
Art Deco lovers, this Throwback Thursday is for you!
Imagine living in one of Brisbane's most unique homes, praised as "House of the Year" in the pre-war period. Now imagine receiving a commendation from the Royal Australian Institute of Architects recognising extensions you personally carried out over 50 years later which restored it to its original glory. That is exactly what Noel did, where this week's Throwback is a look into his home for over 15 years, Chauteau Nous in Ascot.
The Weekend Australian – March 5-6, 1994
Written by Ann-Maree Moodie
CHAUTEAU NOUS – AN ART DECO GALLERY
– START OF ARTICLE –
It was 15 years ago during a dinner party conversation – perhaps one of the best places to exchange gossip – that it was whispered one of Brisbane's few art deco homes was about to be placed quietly on the market.
The next day, one of the guests at that party, award-winning architect Mr Noel Robinson, placed a call to the owners of the house, Mr Dougal Barrack and his wife, Tina, and offered to do a deal.
The Barracks accepted offer for the house, Chateau Nous, and it became the Robinson family home for the next 15 years.
Noted for being the youngest Queensland property registered with the National Trust, the house is situated on two blocks at 1 Rupert Terrace, Ascot.
"I really like art deco architecture," said Mr Robinson, who also restored Brisbane's art deco-style Shell Building.
"It has clean simple lines, really modernist with nice proportions and humanistic qualities."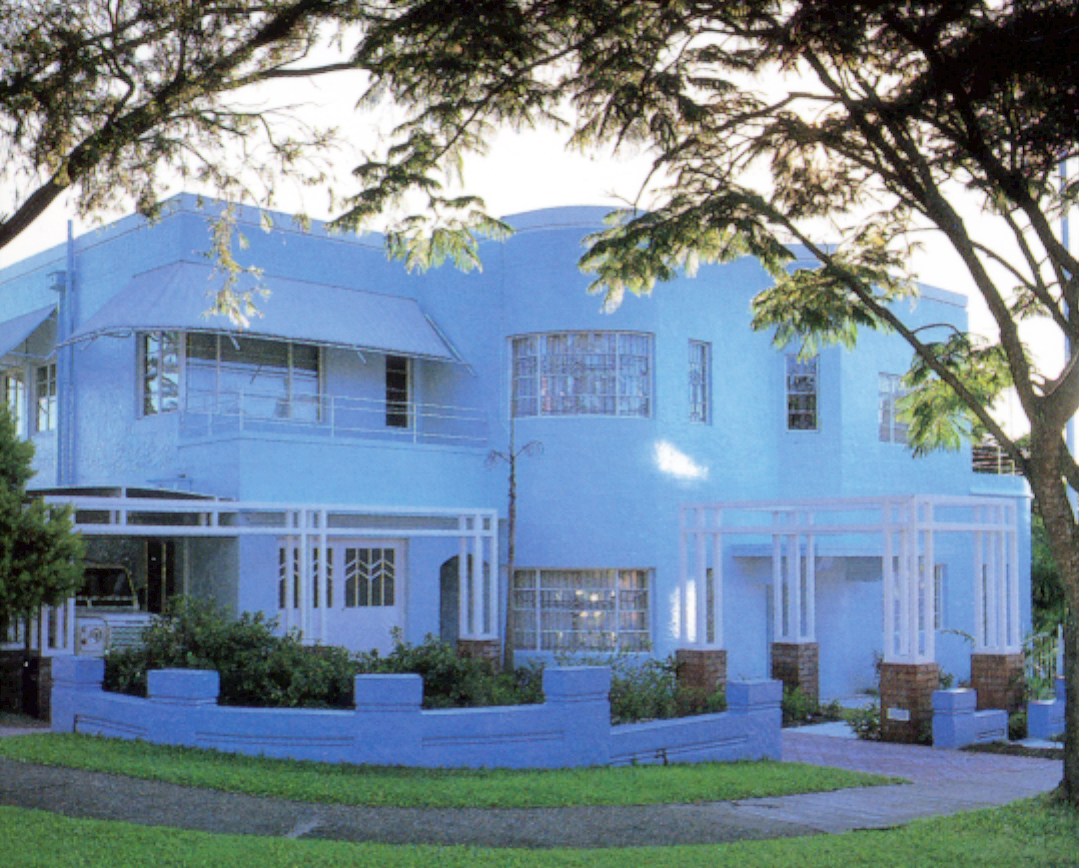 "I jumped on Chateau Nous when I found it was available because it is very rare for Brisbane and we brought it to bring back to its original condition."
When the house was built in 1937 by architect Douglas F.W. Roberts for its first owner, a flamboyant dentist called Dr Stewart, it was regarded as being highly contemporary for its time.
It received a House of the Year award in 1939, and was featured twice in The Courier Mail, which said Chateau Nous "typified modern trends in Brisbane suburban architecture".
Dr Stewart employed a full-time gardener, nanny and house-keeper to maintain the property where he was fond of entertaining, as were the subsequent owners.
In continuing the trend, Mr Robinson decided to purchase the next-door property to demolish its house and then built a full size tennis court, which has been the setting for many weekend parties.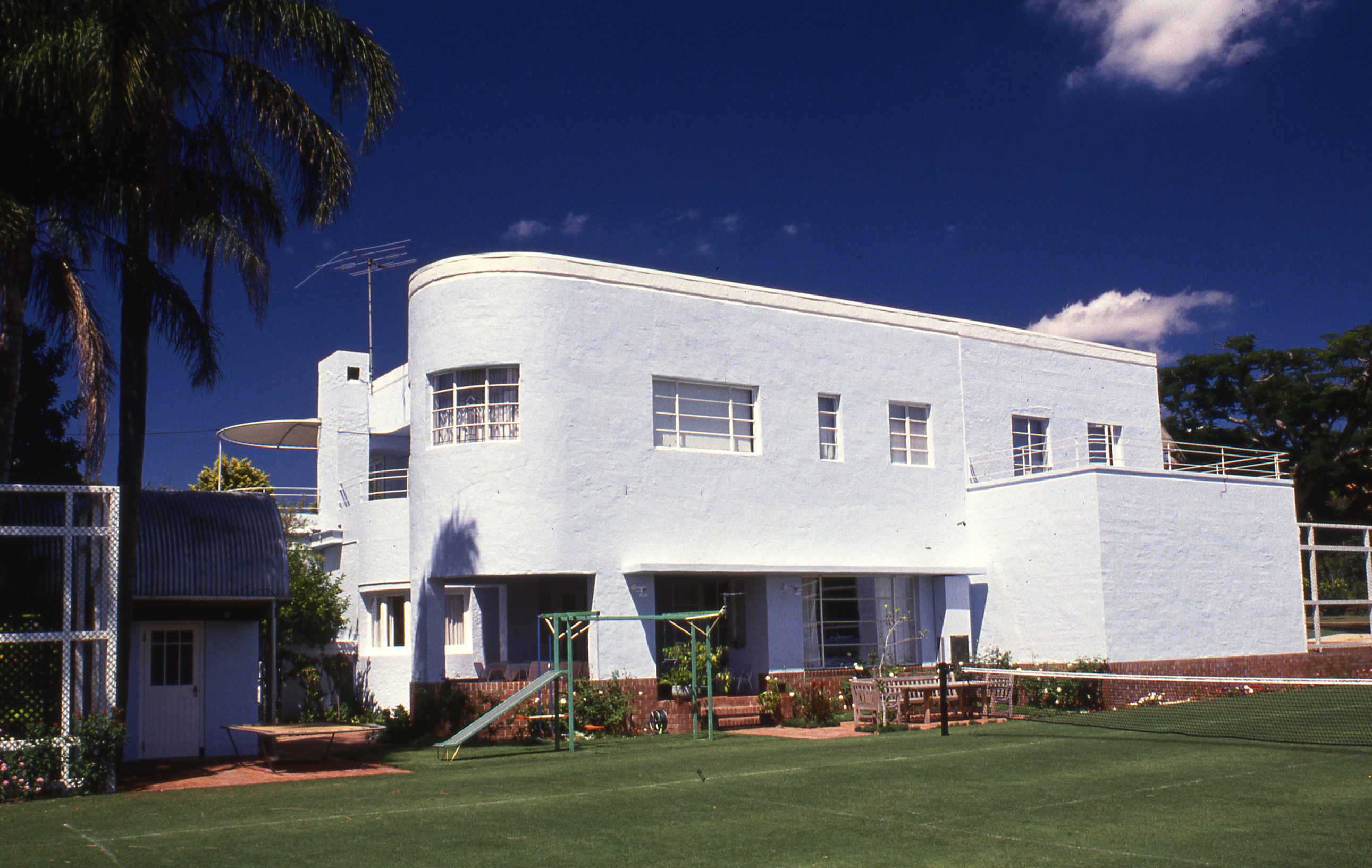 The other big renovation was an extension in the north-east corner of the property to accommodate the family's main casual living areas.
Little else has changed since the house was built, with the exception of its being restored to its original condition.
The house still features a marble, timber and metal staircase, curved walls, lead lights and glass bricks.
A Royal Australian Institute of Architects' commendation award for the Robinson extension recognised it was in keeping with art deco architecture.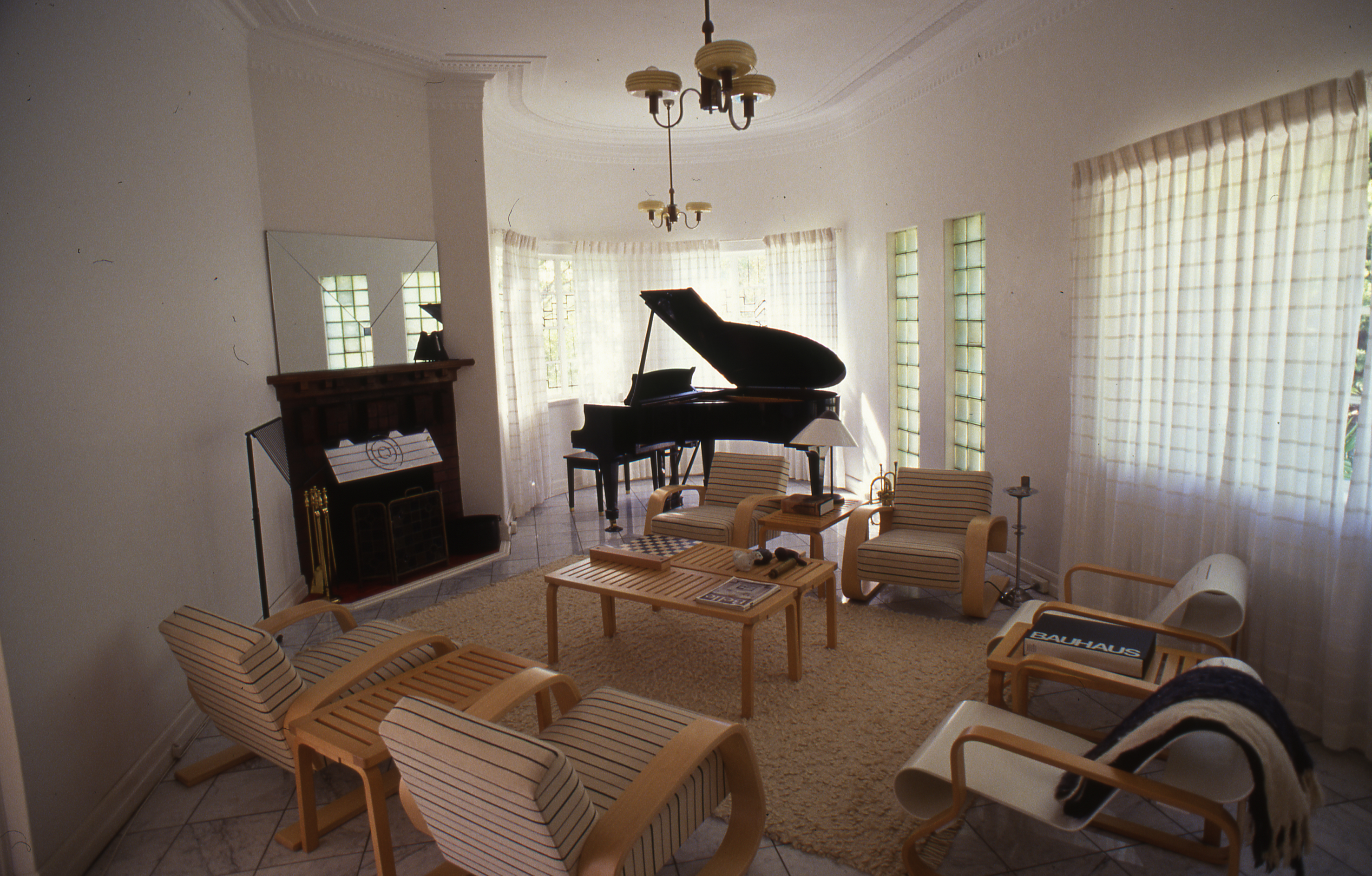 Situated on a 1618sq m block, Chateau Nous has 22 rooms, including a wine cellar that served as a bomb shelter during World War II.
Outside there is a 10m saltwater swimming pool, an undercover barbecue area, timber-decked terrace, a sauna fashioned after a Finnish log cabin and garaging for three cars.
"Designing a house is very site-specific," he said. "I do not have a set idea for the style of the house I want except for my requirements. The house responds to the site and one gets clues from the aspect."
– END OF ARTICLE –
Noel has also overseen the restoration and refurbishment of many heritage buildings across Australia including Shell House, the New Inchcolm Hotel and Suites and Nindooninbah House, Kedron Lodge and Sydney Sailors Home.